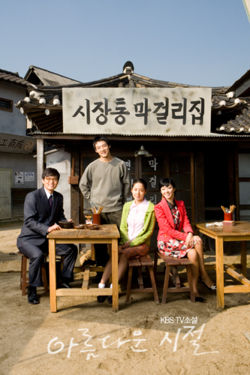 Englist SubTitle : Yes / 예
Amount Of Episode : 127
Broadcast Date /Birth Date :
November, 2007
Type Of Story/Drama :
Romance
Cast Involve :
Choi Il Hwa
,
Jung Seung Ho
,
Lee Eung Kyung
,
Song Ok Sook
,
Kim Yoon Jung
Story Synopsis / Summary / 개요:
This drama depicts the desperate hopes and love of people of the 1970s, when the majority of families had four children. The true-to-life characters and the humorous language they use add fun to the drama. It is an opportunity to meet with your down-to-earth and well-familiar neighbors and receive vitality from them. None of the drama's characters is particularly successful, and this is not a story of their success. Through the four siblings, who were born in a marketplace, grew up there, left it in the quest for a better life but eventually returned, this drama sends a message of strong family ties and reconciliation.
LET'S WATCH BY CLICKING THE LINK (You are suggested to open the link into new tab/browser:
Belle Episode 92