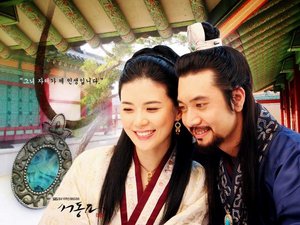 English SubTitle : Yes / 예
Amount Of Episode : 55
Broadcast Date /Birth Date : September 2005
Type Of Story/Drama :
Drama
,
Period Drama
,
Romance
Cast Involve :
Jo Hyun Jae
,
Lee Bo Young
,
Ryu Jin
Story Synopsis / Summary / 개요:
"Sodongyo" is said to be one of Korea's oldest folk songs. According to Samgukyusa (The Memorabilia of the Three Kingdoms) from the Silla Kingdom, the song was written by Sodong, a commoner from the Paekche Kingdom. Hearing that Princess Sonhwa, a daughter of King Chinpyong of the Silla Kingdom was beautiful, he writes a song saying that the princess visits Sodong's room every night and spreads the song around. When her father hears the song, he condemns the princess to exile. Sodong picks her up and takes her to Paekche, and they become the royal couple of the country.
LET'S WATCH BY CLICKING THE LINK (You are suggested to open the link into new tab/browser):