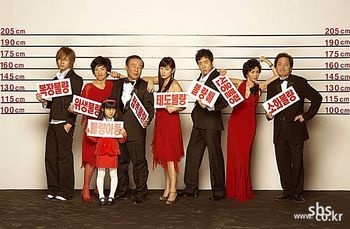 English SubTitle : Yes / 예
Amount Of Episode : 16
Broadcast Date /Birth Date : March 2009
Type Of Story/Drama :
Comedy
Cast Involve :
Geum Bo Ra
,
Im Hyun Sik
,
Kang Nam Gil
,
Kim Heechul
,
Nam Sang Mi
,
Yeo Woon Kye
Story Synopsis / Summary / 개요:
Na Rim (Lee Young Yoo), who came from a wealthy household, lost her family in a car accident when she was nine. After the accident, she suffered from amnesia so her uncle hired Oh Dal Gun (Kim Myung Min), an ex-ganster,to recreate a similar household with parents, sister, brother, grandparents and uncle in hopes that she would regain her memory. In a hurry, Oh Dal Gun ended up hiring all sorts of odd ball characters to act as members of Na Rim's family. None got along at the start and hilarious situation arose when all members tried to cope in front of the little girl and also to protect her from the one who caused her family's accident. Eventually they started to behave like a real family and cared for each other, proving that blood relation is not as important as a caring heart.
LET'S WATCH BY CLICKING THE LINK (You are suggested to open the link into new tab/browser:
Bad Family Episode 1
Bad Family Episode 2
Bad Family Episode 3
Bad Family Episode 4
Bad Family Episode 5
Bad Family Episode 6
Bad Family Episode 7
Bad Family Episode 8
Bad Family Episode 9
Bad Family Episode 10
Bad Family Episode 11
Bad Family Episode 12
Bad Family Episode 13
Bad Family Episode 14
Bad Family Episode 15
Bad Family Episode 16
Jiemy Disclaimer/Notification:
www.jiemy-allaboutkorean.blogspot.com does not own every each of video in this site. This video contain only embed videos from legal and public domains on the Internet such as "dramafans.org and mysoju.com which legally taken from dailymotion.com, myspace.com, yahoo.com, google.com, tudou.com, veoh.com, youtube.com and others". We do not host or upload any video, films, media files (avi, mov, flv, mpg, mpeg, divx, dvd rip, mp3, mp4, torrent, ipod, psp), we does not responsible for the accuracy, compliance, copyright, legality, decency, or any other aspect of the content of other linked sites. If you have any legal issues please contact appropriate media file owners / hosters. Please Contact Us if you still have more questions.