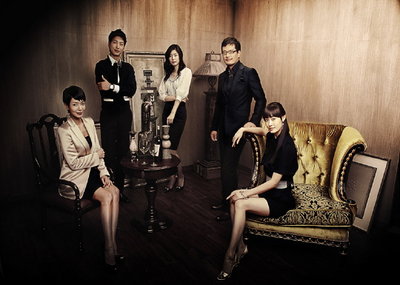 Englist SubTitle : Yes / 예
Amount Of Episode : 12
Broadcast Date /Birth Date : September 2007
Type Of Story/Drama :
Drama
,
Family
Cast Involve :
Jung Chan
,
Jung Sang Woon
,
Kim Hye Ri
,
Lee Yoo Jung
,
Yoon So Yi
Story Synopsis / Summary / 개요:
The drama traces the problems faced by employees of an Auction House. Cha Yun Soo is a sweet girl, but is strong as well. She finds an advertisement for a job at an Auction House and applies for the job. But after meeting Min Soo Rin, she dedides to become an auctioneer like Soo Rin. Oh Yoon Jae is peculiar and cynnical but has a very strong pride. He's a type of person who strictly focuses on his work. He was once a famous auctioneer, but due to an auction forgery, he quit his job. He is called back to help out Yun Soo.
LET'S WATCH BY CLICKING THE LINK (You are suggested to open the link into new tab/browser:
Auction House Episode 1
Auction House Episode 2
Auction House Episode 3
Auction House Episode 4
Auction House Episode 5
Auction House Episode 6
Auction House Episode 7
Auction House Episode 8
Auction House Episode 9
Auction House Episode 10
Auction House Episode 11
Auction House Episode 12
Jiemy Disclaimer/Notification:
www.jiemy-allaboutkorean.blogspot.com does not own every each of video in this site. This video contain only embed videos from legal and public domains on the Internet such as "dramafans.org and mysoju.com which legally taken from dailymotion.com, myspace.com, yahoo.com, google.com, tudou.com, veoh.com, youtube.com and others". We do not host or upload any video, films, media files (avi, mov, flv, mpg, mpeg, divx, dvd rip, mp3, mp4, torrent, ipod, psp), we does not responsible for the accuracy, compliance, copyright, legality, decency, or any other aspect of the content of other linked sites. If you have any legal issues please contact appropriate media file owners / hosters. Please Contact Us if you still have more questions.